Passport Fees from 1 January 2021
​Passport fees increases every year on 1 January. From 1 January 2021, the fees will be:
a 10-year validity passport for people aged 16 and over will cost $301
a 5-year validity passport for people aged under 16 or 75 and over will cost $152
emergency and replacement passports will cost $189
the priority processing fee will be $220
the overseas surcharge for adult applicants will be $135
the overseas surcharge for child applicants will be $66.
(Note: the overseas surcharge is not/not charged for emergency or replacement passports.)
Details of the new fee structure below.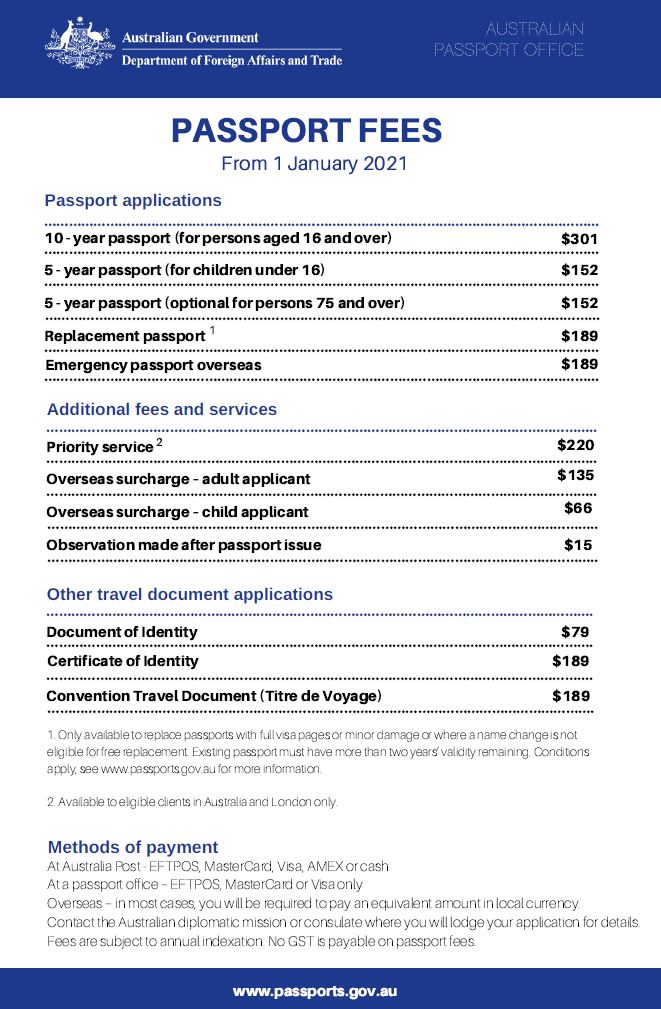 PASSPORT FEES
Fees are payable in Indian Rupees only and can be made by cash, Debit/Credit cards (except American Express) or by Demand Draft. Fees are subject to exchange rate fluctuations and/or increases in the passport fees. Applicants intending to apply by mail should check with the High Commission to ensure the fee forwarded is valid for that month. Please note: We do not accept payment by personal cheque.
NB: If your application is incomplete or incorrect (e.g. unacceptable photographs), we will return the application form and supporting documents to you.
Since the Australian passport fee is subjected to change every month due to the rate variance between the AUS$ and INR, the High Commission recommends that all the applicants should contact the Consular Section to confirm the exact amount of passport application fee.

Local Currency Calculation for the cost of Australian Travel Document (July 2021)
Travel Document

Individual Type

AUD

INR

Issue of Australian Passport (Ordinary)

Adult

Minor

$301

$152

INR 16650

INR 8400

Senior (5 years)

$152

INR 8400

Overseas Processing Surcharge

Adult/Senior

$135

INR 7450

Minor

$66

INR 3650

An observation made after the issue of a passport

NA

$15

INR 850

Issue of document of Identity

NA

$79

INR 4400

UN Travel Document (Titre de Voyage)

NA

$189

INR 10450

(EY) Emergency Passport Overseas

NA

$189

INR 10450

Issue of Certificate of Identity

NA

$189

INR 10450
The above fees apply and are payable under Passport Act 1938 and Regulation.
*The passport application fee is non-refundable.
TOTAL FEE FOR AN ADULT PASSPORT = INR 24100 / AUD 436
TOTAL FEE FOR A MINOR'S PASSPORT = INR 12050/ AUD 218
TOTAL FEE FOR A SENIOR'S PASSPORT = INR 15850/ AUD 287
TOTAL FEE FOR A 16/17 Y/O PASSPORT = INR 20300/ AUD 367