Op ed by Australia's High Commissioner to India, H.E. Harinder Sidhu
This is a critical opportunity for India to 'Act East' and help shape the Indo-Pacific trade architecture
The Australia–India bilateral relationship has grown dramatically over the last decade. One of the large drivers behind that growth has been the common interests, values and concerns we both have in building a stronger Indo-Pacific region.
A key element of this endeavour is our shared goal to strengthen the Indo-Pacific economic order – in particular, to build a rules-based trade and investment system from which we all stand to benefit.
The Regional Comprehensive Economic Partnership (RCEP), which includes India, China and ASEAN countries, as well as Australia and others, is a central vehicle for building this regional order.
RCEP countries represent nearly a third of the global economy and almost half of the world's population. This will be the first trade agreement between the major economic powers of the region and will contribute to regional economic development at a time when global trade growth is weakened.
Concluding a high quality RCEP will expand regional trade and investment and help shape the regional rules and norms governing trade, investment and the broader economy. It will strengthen regional supply chains. And it will create a platform to drive ongoing economic reform.
RCEP will contribute to regional and global stability. The agreement presents an opportunity to respond to the uncertainties in the international trading system by making a commitment to an open and inclusive global trading regime.
It would demonstrate that the countries in the Indo-Pacific region – with their vibrant economic activity and massive potential for future growth – are rejecting the lure of protectionism. RCEP will be a powerful collective statement that the Indo-Pacific wants greater economic integration, trade and investment, not less.
Very importantly, RCEP deals India into regional economic integration. India is an Indo-Pacific powerhouse, essential to realising the full potential of the agreement.
This is a critical opportunity for India to 'Act East' and help shape Indo-Pacific trade architecture now and into the future. More than that, India's domestic economy stands to gain significantly.
RCEP offers India an opportunity to capitalise on its growth trajectory. The Indian economy is developing rapidly and becoming more globally oriented. RCEP has the potential to drive further domestic economic reform and the economic growth that is needed to fulfil the vision of India becoming a USD 5 trillion economy.
By improving the regional business environment, RCEP will increase opportunities for Indian businesses to serve more markets and bring exporters even closer to more than the 3.6 billion consumers this agreement will cover.
RCEP will provide additional pathways for India's skilled migrants to access overseas markets and opportunities for businesses to achieve greater levels of competitiveness. It will help create jobs, raise living standards and provide consumers with more affordable products and services.
Under RCEP, Indian businesses will be better integrated into regional supply chains, increasing their market access across the Indo-Pacific and driving export growth. Goods, services and investment liberalisation are all critical to this. For businesses, lowering tariffs on goods means reducing the cost of inputs, while also still allowing India the necessary policy space to regulate in the public interest.
Beyond the increased trade in goods and services generated by RCEP, there is enormous potential for Indian businesses to digitally access international markets. Harmonised standards and modern rules will allow India to make the most of opportunities created by digital trade.
The stakes are high and the rewards clear. That is why in advance of the 28th round of expert negotiations later this month in Vietnam, a group of negotiators, academics and representatives from economic think tanks will meet on 13 September in New Delhi to discuss the economic and strategic opportunities that RCEP presents.
The roundtable meeting will reinforce parties' commitment to concluding a commercially-meaningful deal and will assist in advocacy for ongoing trade liberalisation. Australia's chief negotiator will attend the meeting, demonstrating Australia's commitment to the agreement and to continuing our partnership with India to build a better, safer and more prosperous Indo-Pacific.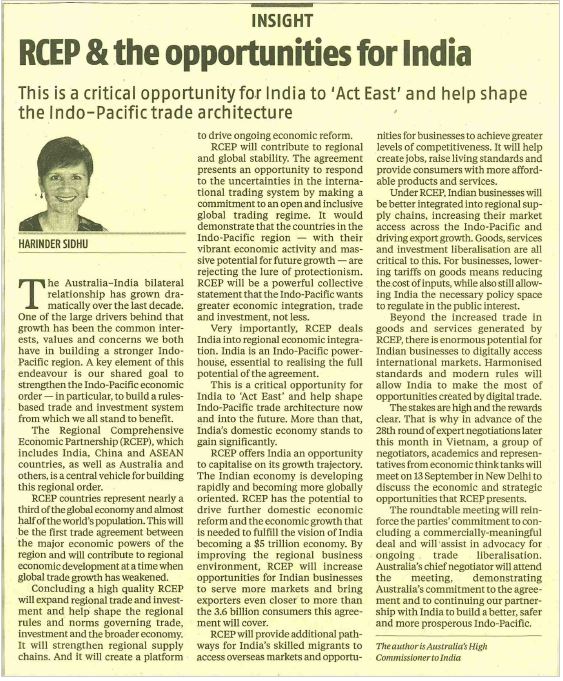 The OpEd appeared in the Business Standard on 12 September 2019 (https://www.business-standard.com/article/opinion/rcep-the-opportunities-for-india-119091101277_1.html)