IMPORTANT UPDATES FOR THOSE WISHING TO RETURN TO AUSTRALIA
In an Australian National Cabinet meeting on 10 July, the Prime Minister and State and Territory leaders discussed increased COVID-19 cases in Victoria. As part of the response, the leaders agreed to reduce by half the number of arrivals on inbound flights into Australia.
We know these changes taken by Australian Federal, State and Territory governments to manage COVID-19 risks are frustrating for many of you who want to return to Australia. We will continue to update registered Australians about options to return to Australia as they become available.
IMPORTANT INFORMATION FOR AUSTRALIANS
The Indian Government has announced new guidelines as part of "Unlock v14.0". A number of activities will be allowed from 1 September outside of containment zones. Please ensure you are aware of any State specific regulations and adhere to these.
The Indian government and states governments are maintaining, however, a number of measures in the fight against COVID-19. Australians should follow the advice of local authorities and minimise your risk of getting the virus.
High Commission staff will continue to update our website with relevant information as quickly as possible, including links to the latest available information and advice.
We can all help slow the spread of COVID-19. To protect yourself and others you must:
· practise social distancing
· limit contact with other people
· understand how to isolate if you need to
· look after your mental health
If you need urgent consular assistance (for example you have been attacked, arrested) please call +91 11 4139 9900.
REGISTER WITH US FOR UPDATES
If you have not yet done so, we urge you to register with the Australian High Commission – this will enable us to contact you should the need arise including advising when flights to return to Australia are available.
Click on this link to register with us: https://covid19.dfat.gov.au
HOTELS
If you have any problems with hotels, including hotels accepting bookings, please contact the 24/7 Indian Government tourism hotline on 1800 11 1363 (available in 12 languages).
VISAS
If your regular visa or e-visa or stay stipulation period are expiring post 30 June, such regular visa or e-visa or stay stipulation period shall be deemed to be valid until 30 more days from the date of resumption of normal international flight operations on 'GRATIS' basis without levy of overstay penalty. (Vide MHA O.M. No. 25022/24/2020-F.V/F.I(Pt.) dated 29.06.2020) To extend your visa apply online through FRRO/FRO.
EXTENSION OF INDIA'S FLIGHT BAN
India has extended its ban on regular scheduled international passenger flights till 30 September.However, international all-cargo operations and flights specifically allowed to operate by the Indian aviation regulator, such as repatriation flights, charter flights, and flights under the Vande Bharat Mission, will continue to operate. We have prepared responses to frequently asked questions, including covering existing flight bookings, charter options, visa extensions and tips for the lockdown in India. Read more...
ATTENTION: Be careful when choosing charter fights
Many people are asking us about other private charter options being promoted. Be aware: only flights we notify to those registered with us have the approvals required to operate. Please be cautious about other options.
RETURING TO AUSTRALIA
The Indian Government's ban on international scheduled flights has been extended until further notice. India resumed domestic flights in a calibrated manned from 25 May.
On 25 March, the Deputy Prime Minister Michael McCormack and the Minister for Foreign Affairs Marise Payne issued a statement about Australians trying to return to Australia.
They made clear:
- Where local authorities will allow, consideration is being given, on a case by case basis, to supporting airlines willing to operate non-scheduled services to bring Australians home
- There are no plans for assisted departures such as those conducted to the epicentre of the COVID-19, Wuhan in China and Japan.
We are sending updates on flight options to Australians who have registered with us (see above on how to do so). We will update this website when there is any change in this advice or if new airline information becomes available.
The Australian government continues to investigate commercial flights options to repatriate those wanting to return to Australia. The planning and coordination of these flights will affect consideration of privately-organised charter flights.
If you have sought approval for a privately-organised charter, you can expect to be contacted by the Australian Border Force. The AHC New Delhi is unable to provide any assistance for private charter flights until such approvals have been provided in Australia.
We continue to assess all such requests against a range of factors, including the need to manage and sequence the return of Australians into our international airports so that Commonwealth, State and Territory authorities can successfully implement reception arrangements, including mandatory quarantine requirements.
Movement Passes
If you have purchased a ticket on a flight to Australia a movement pass from the Indian government to travel to the city from where your flight is departing is no longer required. However, you should contact and consult the state governments you need to pass through to confirm what if any requirements they may have and comply with these.
Quarantine period
All travellers returning to Australia will be required to undertake a mandatory 14 day quarantine at designated facilities at their port of entry. You will be directed to a facility such as a hotel on arrival in Australia and required to stay there for 14 days before you can complete any onward travel or return to your home. The accommodation, along with food, water and any medical support will be provided by the Australian Government. See the Smartraveller website for more.
Should you then wish to travel to another state or territory governments you may be subject to an additional period of quarantine or other restrictions. You should keep up with the latest with the relevant State and Territory Governments:
Australian Capital Territory (ACT)
FOOD AND MEDICINE
As you know, the Indian Government has announced further relaxaions to restrictions on activities outside of containment zones. Indian authorities advise that people will have access to food and medicine in containment zones.
For those staying in hotels, you should be able to drive or walk to nearby shops and pharmacies. If you are having problems, we suggest asking your hotel, local authorities or friends to help you get essential supplies.
If you have any problems. Contact us: (Business hours: +91 11 4139 9900, ahc.newdelhi@dfat.gov.au; For outside of business hours: +612 6261 3305).
You can also call the Police on 100.
INTERNATIONAL STUDENTS IN AUSTRALIA
The Australian Government recognises that COVID-19 is affecting international students in Australia, who are friends, colleagues, classmates and members of the Australian community. On 4 April, the Australian Minister for Education, the Hon Dan Tehan MP, said the Australian Government had agreed that:
international students who had been in Australia for longer than 12 months who find themselves in financial hardship would be able to access their Australian superannuation
international students would be able to work up to 40 hours per fortnight
the Government would increase flexibility for a number of regulations to make it easier for international students to continue their studies in Australia should they wish to do so
the Government would be flexible in cases where COVID-19 has prevent international students from meeting their visa conditions (such as not being able to attend classes).
International Students in Australia Factsheet
See also the Australian government's portal on support available for international students in Australia during COVID-19.
OTHER USEFUL INFORMATION
The Australian Government advises all Australians: Do not travel overseas at this time. This is the highest advice level. Please see the Smartraveller website for more information on COVID-19 for Australian travellers.
On 24 March 2020, Prime Minister Morrison announced a ban on Australians travelling overseas under the Biosecurity Act 2015. This is on top of the Australian Government's standing advice to Australians not to travel overseas. It is effective from midday on 25 March 2020.
The Australian Government has announced that from 21:00hrs on 20 March 2020 only Australian citizens, residents and immediate family members can travel to Australia. Please visit the Visas and Citizenship section for more information.
Indian Government Ministry of Health and Family Welfare: https://www.mohfw.gov.in/
Indian Ministry of Tourism website to help forieign tourists in India: http://strandedinindia.com/
Social distancing: Australian Government advice, Indian Government advice
The Australian Government will proceed with the Australian Marriage Law Postal Survey of all Australians on the Commonwealth Electoral Roll. Instructions on survey participation will be published on the Australian Bureau of Statistics (ABS) The Australian High Commission cautions you against ongoing organised visa scams targeting Indians. Victims are provided with a fake visa grant notice, which links to a non-genuine visa checking service on a fake website. All potential visa applicants should refer directly to information published on the official Home Affairs website: www.homeaffairs.gov.au
Latest news
First Australia-India Leaders' Virtual Summit
The first Australia-India Leaders' Virtual Summit on 4 June, 2020 concluded on a historic high with the two Prime Ministers elevating the Australia-India relationship to a Comprehensive Strategic Partnership level. Nine agreements were signed/announced during the summit. Links below for more information:
· List of the documents announced/signed during India - Australia Virtual Summit
· Joint statement on the Comprehensive Strategic Partnership between India and Australia
· Opening remarks by Australian Prime Minister at the Virtual Summit
· High Commissioner Barry O'Farrell's OpEd published in Hindustan Times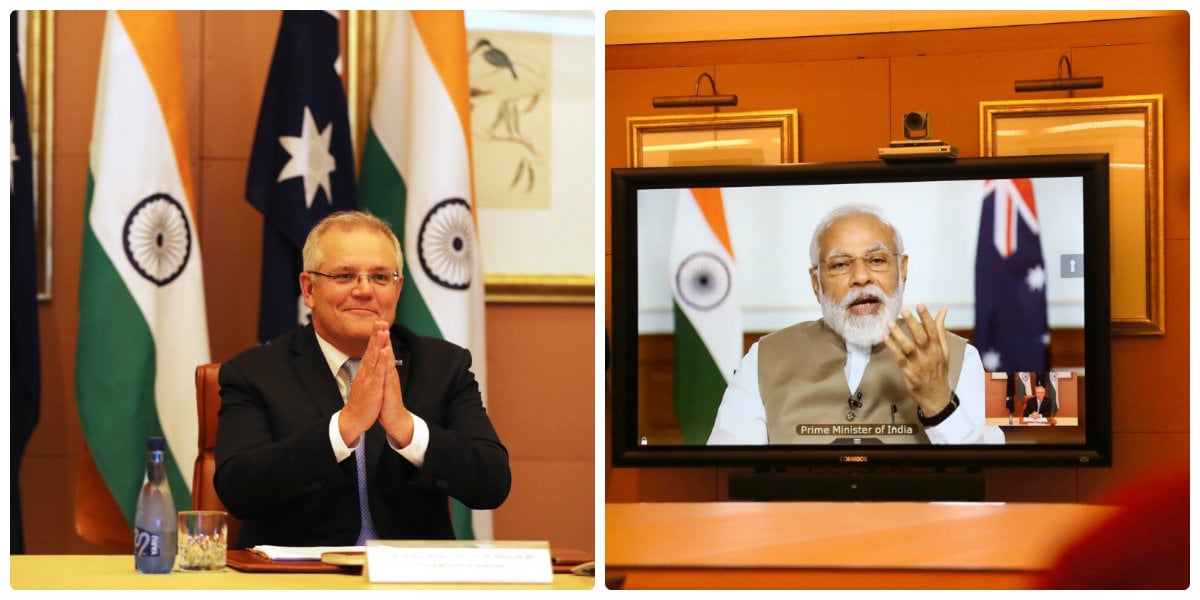 The Australian Government is committed to growing the Australia-India economic, trade and investment relationship. In response to the independent report to the government, the India Economic Strategy, the Australian Government has agreed to implement a number of its recommendations. Here are some important links for more information:
The full independent report is available at indiaeconomicstrategy.dfat.gov.au
Capturing India's economic transformation (video link or watch below)
Latest speeches by the High Commissioner
Latest Press Coverage