Latest news
Trade deal with India comes into force
"Australia and India are natural trading partners – this agreement will unlock the enormous potential in our trading relationship."

- the Hon Don Farrell, Minister for Trade and Tourism
The Australian Government has welcomed entry into force of the Australia-India Economic Cooperation and Trade Agreement (ECTA).
ECTA will unlock the enormous potential in our trading relationship. Effective now,
96 per cent of Indian goods exports can enter Australia duty-free and,
85 per cent of Australian goods exports can enter India duty-free.
"This agreement reflects the Government's commitment to diversifying exports and strengthening our partnerships."
"ECTA's entry into force today opens up the world's largest democracy, with nearly one and a half billion people, to Australian exporters – early entry into force sees Australian exporters receive a tariff cut today, followed by another on 1 January 2023."
"Australian businesses can look to DFAT's Free Trade Agreement Portal and Guide to using ECTA to export and import goods to seize these new opportunities." said Minister for Trade and Tourism, Senator the Hon Don Farrell.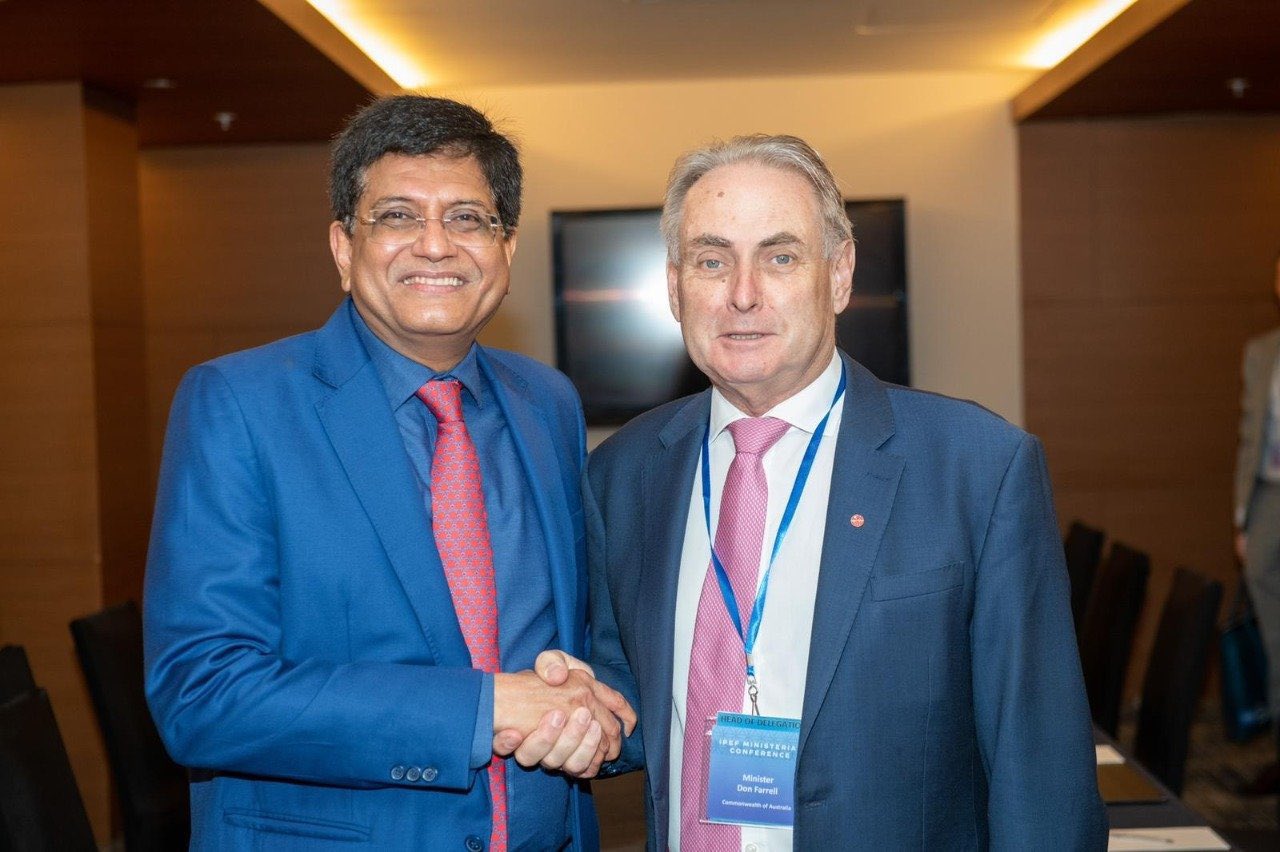 Australian Trade Minister Don Farrell with Indian Minister of Commerce & Industry Piyush Goyal at WTO Ministerial Conference in Geneva.
Passport and notarial services
Latest announcements
Medibank Private/ahm and other recent data breaches – advice for foreign passport holders
Medibank Private/ahm have advised the Australian Passport Office (APO) that no Australian Travel Document information was compromised in this breach.
Foreign passports for international students were compromised through this cyberattack. Medibank Private/ahm are contacting impacted customers directly.
If Medibank Private/ahm have advised you that your foreign passport information was compromised, you should contact the government that issued the passport for advice on what to do. This is also the case for all data breaches that impact foreign passport holders, including the recent breaches at Optus and Medlab.
More information:
Medibank/ahm impacted customers:
Call Medibank on 134 148 (within Australia) or +61 3 9862 1095 (International)
Contact Medibank's 24/7 Student Health and Support line (Medibank international students call 1800 887 283 and ahm international students call 1800 006 745)
Visit Medibank Cyber Event Updates and Support page medibank.com.au/cybersecurity
See the Australian Cyber Security Centre's Medibank Private alert.
Optus impacted customers:
Contact Optus customer service directly on 133 937 (within Australia), or +612 8082 5678 (International), or go to their Passport Information (link is external) webpage.
Go to our Frequently Asked Questions on the Optus data breach and passport information
See the Australian Cyber Security Centre's Optus data breach(link is external) alert.
Medlab impacted customers:
Contact Medlab customer service directly on +61 1800 433 980, or go to their data breach web page (link is external).
Australia is now fully open!
Australia is now fully open! From 6 July, you no longer need to
fill out a Digital Passenger Declaration or Maritime Travel Declaration when entering Australia
declare or prove your vaccination status
seek exemptions to enter Australia.
Details ➡️ https://www.smartraveller.gov.au/news-and-updates/covid-19-related-border-restrictions-lifted
Owing to high demand in India since Australian borders reopened, processing times have been affected & processing times increased. More info ➡️ https://immi.homeaffairs.gov.au/visas/getting-a-visa/visa-processing-times/global-visa-processing-times
OECD Guidelines for Multinational Enterprises
The Australian Government encourages Australian enterprises operating overseas and multinational enterprises operating in Australia to observe the OECD Guidelines for Multinational Enterprises. The Guidelines provide voluntary principles and standards for responsible business conduct in a variety of areas, including:
human rights;
employment and industrial relations;
environment;
combating bribery, bribe solicitation and extortion;
consumer interests;
science and technology;
competition; and
taxation.
The Australian National Contact Point (AusNCP) promotes the use of the OECD Guidelines and contributes to the resolution of issues relating to their implementation, including facilitating access to conciliation services.